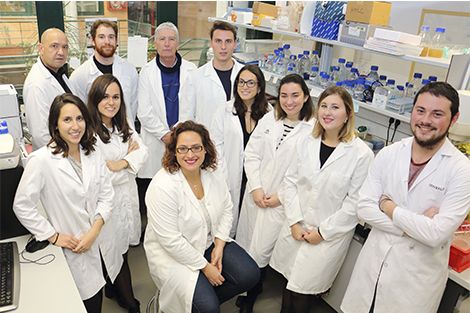 Seville april 16, 2019.                                           

-----Translated by Google-----
ENACH is the acronym for Neurodegenerative Diseases with Iron Brain Accumulation. It is a group of 11 ultra rare pathologies (70 cases in Spain) that usually affects children who, being born normal, in the first decade of life begin to manifest the first symptoms of a devastating disease with very poor prognosis, not surpassing life expectancy ten years since the diagnosis.
Five years ago, a group of families members of the ENACH Association, we decided not to resign ourselves with the diagnosis of our children or with the absence of therapeutic options in the short-medium term.
Developing a new drug takes years and, from its development, until it is available in the market, it can take more than 10 years. Also, the development of a new drug requires a very high investment.
Time and costs are our worst enemies, therefore, we are committed to the search for treatments with already existing drugs that, in the appropriate doses and combinations, CAN BE A THERAPEUTIC OPTION in PATIENTS OF THIS GENERATION.
In 2014, ENACH Asociación commissioned Dr. Sánchez Alcázar, Principal Investigator of the BRAINCURE Project, to try to find existing drugs that, individually or in combination with others, could be a therapeutic option for ENACHs.
BASIC RESEARCH and TRANSLATION.
The choice of Dr. Sánchez Alcázar was due to his extensive experience in research on rare diseases, with 138 articles of which 41 are on mitochondrial diseases and PKAN, PLAN, BPAN and MPAN are diseases where the mitochondria are highly compromised, we think that was a very good option.
This is your CV: https://www.researchgate.net/profile/Jose_Sanchez-Alcazar
BRAINCURE developed in less than a year, a very powerful method, which allows to identify / screen commercial drugs that work at the cellular level in fibroblasts and neurons induced by the patients themselves.
Soon, BRAINCURE came to a conclusion: The identification of the existing drugs and the doses that worked in the sample of patient 1 did not work in the same way in the samples other patients.
Following this methodology, BRAINCURE has at this moment 4 basic and translational research lines:
BRAINCURE for PKAN: 13 Drugs identified as a potential therapeutic option
BRAINCURE for PLAN: 15 Drugs identified as a potential therapeutic option
BRAINCURE for BPAN: 3 Drugs identified as a potential therapeutic option
BRAINCURE for MPAN: 3 Drugs identified as a potential therapeutic option
The drugs used are broad spectrum and low toxicity, even in high doses, and approved by the FDA and EMA (the European FDA).
The BRAINCURE research project is authorized by the Ethical Committee of the Spanish public health system.
At this point, the work of the research team of Dr. Sánchez Alcázar ends.
CLINICAL TRANSFER.
The result obtained at the cellular (or neuronal) level with the result in a patient is not comparable but, the information obtained from the induced neurons of patients provide very relevant information on potential therapeutic approaches for neurologists, especially in a context where that, said neurologists have no therapeutic option.
That is why, once the neurologist is informed about the results of the test on his patient, he / she is the one who decides whether to apply treatment or not. In this sense, the drugs detected are among those that any neurologist can prescribe within their daily clinical practice, so that any risk situation for the patient is filtered by their neurologist.
CURRENT SITUATION OF CLINICAL RESEARCH.
-8 PKAN patients in treatment with very positive results monitored by neurologists based on videos and scales.
-2 PLAN patients.
-0 BPAN patients in treatment.
-0 MPAN patients in treatment.
The preliminary clinical results of PKAN will be presented in two parallel ways:
- Presentation of results and details in the appropriate neurology forums
- Publication in medical-scientific journals (article in the process of drafting)
In addition, the BRAINCURE Project includes an area in which there is a significant lack of literature. It deals with the neuropsychological aspect of each of these ENACH groups. Medical / scientific publication in process.
FINANCING OF RESEARCH LINES.
Although, initially, BRAINCURE funding was supported by the families of ENACH Association, recently our sister Associations AIDNAI (NBIA France), NBIA Hungary and NBIA Poland have added to the financial support. Likewise, a group of families at the international level, grouped and coordinated by the ENACH Association, have financed the opening of the BRAINCURE for BPAN line.
DIVULGING VIDEO.
Antonio López.
President and father of 2 PKAN patients.
ENACH Association.
www.enach.org